The Only Thing Missing From This Almanac Is Your Daily Horoscope
Every day, you read the Four Winds report, to get a sense of the current energies. There's just one thing missing — your daily horoscope. Written for you, every day of the week, your Planet Waves daily horoscope is designed to give you the clue you need, that little edge to make your life go smoother.
One well-placed line from an astrologer can make all the difference in your life. We now have two editions of the Four Winds Report — one with, and one without your daily reading. You may be one of the readers who've waited for years for me to offer you this — and now you can have it. Horoscope Lover membership gets you direct mailing of each day's reading, plus the weekly reading on Sunday night, and the monthly reading the last Thursday of the month. Sign up at this link.
with love,


Today is Thursday, Aug. 31, 2017
Hebrew date is 9 Elul 5777
Islamic date is 9 Zul-Hijjah 1438
Mayan Tzolk'in Day is 2 Ix
Mayan Long Count is 13.0.4.13.14
Julian Day is 2457997
Correction: Hebrew and Muslim dates
Thanks to an eagle-eyed reader, we have discovered that we unfortunately failed to change the Hebrew and Muslim month after they switched, and have therefore been supplying the wrong dates. We apologize for this oversight. The correct dates are in today's edition, we've corrected the archive, and we will take steps to ensure as far as possible that the problem does not recur.
If you happen to spot any future errors, or would like to help with proofreading pages, please write to cs@planetwaves.net.
Today's Birthdays: Agnes Bulmer (1775-1836), Maria Montessori (1870-1952), DuBose Heyward (1885-1940), William Shawn (1907-1992), William Saroyan (1908-1981), Helen Levitt (1913-2009), Alan Jay Lerner (1918-1986), Buddy Hackett (1924-2003), Noble Willingham (1931-2004), Eldridge Cleaver (1935-1998), Van Morrison (1945), Itzhak Perlman (1945), Richard Gere (1949), Masashi Tashiro (1956), Deborah Gibson (1970), Chris Tucker (1971), Sara Ramirez (1975).
"Through the air on the flying trapeze, his mind hummed. Amusing it was, astoundingly funny. A trapeze to God, or to nothing, a flying trapeze to some sort of eternity; he prayed objectively for strength to make the flight with grace."
— William Saroyan
Len Wallick | Still Standing, Still Under the Sky
He's back. Back from the path of eclipse totality and all that followed, Len Wallick's column is here proposing a protocol offered in your service. Your mission, should you choose to accept it, is to consider all that's evident with a mind open enough to accommodate every possible understanding.
Moon Phase: Moon is in First Quarter phase and enters Waxing Gibbous phase on Sep. 2 at 3:34 am PDT / 6:34 am EDT (10:34:35 UTC).
Next Full Moon is in Pisces on Sep. 6 at 12:03 am PDT / 3:03 am EDT (07:02:43 UTC).
Corresponding New Moon in Virgo is on Sep. 19-20 at 10:30 pm PDT / 1:30 am EDT (05:29:47 UTC).
Moon Sign: Moon is in Sagittarius and enters Capricorn today at 1:18 am PDT / 4:18 am EDT (08:18:18 UTC).
Sun Degree: 8-9 Virgo.
Planetary Stations and Sign Changes
Moon enters Capricorn at 1:18 am PDT / 4:18 am EDT (08:18:18 UTC).
Mercury enters Leo (retrograde) at 8:27 am PDT / 11:27 am EDT (15:27:34 UTC).
Interesting Selected Aspects | Data by Serennu
— Mars square Sedna at 12:45 am PDT / 3:45 am EDT (07:45:27 UTC).
— Vesta square Saturn at 8:07 am PDT / 11:07 am EDT (15:06:53 UTC).
— Venus square 1992 QB1 at 10:03 am PDT / 1:03 pm EDT (17:03:15 UTC).
— Sun conjunct Orcus at 2:19 pm PDT / 5:19 pm EDT (21:18:46 UTC).
— Vesta opposite Borasisi at 6:19 pm PDT / 9:19 pm EDT (01:18:57 Sep. 1 UTC).
Subscribe to Planet Waves — sign up here | Visit Our Website at this link
If Your Birthday is Aug. 31
(The Day of the Public Appearance) | Virgo Birthday Reading | All Other Signs
Dark emotions teach us more than the happy ones. If you're ever feeling jealous or controlling, rather than let it consume you, take it as your guide. You want to be free of troubling emotions, and you can be. This process holds the keys to love, and will set free your commitment to fairness and justice. That's what really motivates you, and you know it.
Written in the Planets
The Sun, Venus and Vesta all make aspects today that suggest a focus on your longer-term direction. You might consider whether you're being unduly distracted or held back from pursuing your goals, or from organizing your work effectively. If you're experiencing a sense of ennui or are not sure of your next move, it might also be worth devoting some energy to rekindling your passion for something you feel called to do. There's a reason you decided to embark on this course, and from time to time it's worth recalling.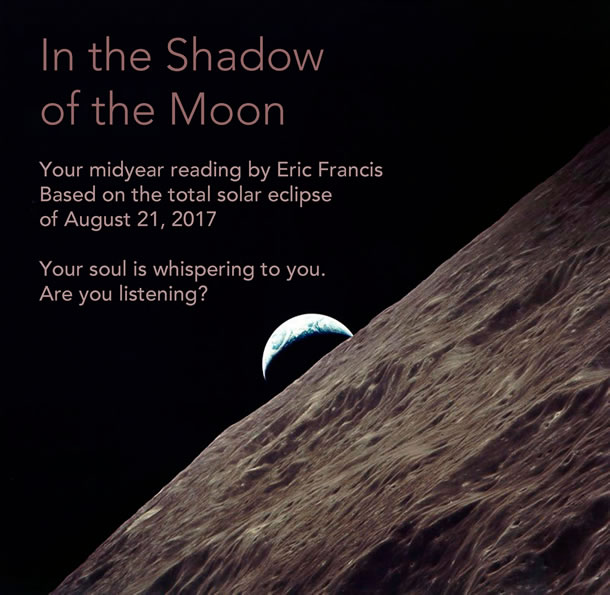 In the Shadow of the Moon, the exciting 2017 Midyear Reading by Eric Francis, is now published. The video readings for all 12 signs cover the Great American Eclipse of Aug. 21 and well beyond. We'll be increasing the price again very soon, so don't hesitate to
order your copy here
. You can also now choose your
individual signs here
.