The Only Thing Missing From This Almanac Is Your Daily Horoscope
Every day, you read the Four Winds report, to get a sense of the current energies. There's just one thing missing — your daily horoscope. Written for you, every day of the week, your Planet Waves daily horoscope is designed to give you the clue you need, that little edge to make your life go smoother.
One well-placed line from an astrologer can make all the difference in your life. We now have two editions of the Four Winds Report — one with, and one without your daily reading. You may be one of the readers who wait for years for me to offer you this — and now you can have it. Horoscope Lover membership gets you direct mailing of each day's reading, plus the weekly reading on Sunday night, and the monthly reading the last Thursday of the month. Sign up at this link.
with love,


Today is Saturday, Aug. 19, 2017
Hebrew date is 27 Av 5777
Islamic date is 27 Zul-Qi'dah 1438
Mayan Tzolk'in Day is 3 Ik'
Mayan Long Count is 13.0.4.13.2
Julian Day is 2457985
Today's Birthdays: John Dryden (1631-1700), Orville Wright (1871-1948), Ogden Nash (1902-1971), Philo Farnsworth (1906-1971), Gene Roddenberry (1921-1991), Frank McCourt (1930-2009), Debra Paget (1933), Charles Bolden (1946), Jonathan Frakes (1952), Peter Gallagher (1955), John Stamos (1963), Kyra Sedgwick (1965), Lee Ann Womack (1966), Nate Dogg (1969-2011), Matthew Perry (1969), Missy Higgins (1983), Simon Bird (1984), Veronica Roth (1988).
"Star Trek was an attempt to say that humanity will reach maturity and wisdom on the day that it begins not just to tolerate, but take a special delight in differences in ideas and differences in life forms… If we cannot learn to actually enjoy those small differences, to take a positive delight in those small differences between our own kind, here on this planet, then we do not deserve to go out into space and meet the diversity that is almost certainly out there."
— Gene Roddenberry
Moon Phase: Moon is in Balsamic (waning crescent) phase and enters New phase on Aug. 21 at 11:30 am PDT / 2:30 pm EDT (18:30:06 UTC).
Next New Moon is in Leo on Aug. 21 at 11:30 am PDT / 2:30 pm EDT (18:30:06 UTC).
Next Full Moon is in Pisces on Sep. 6 at 12:03 am PDT / 3:03 am EDT (07:02:43 UTC).
Moon Sign: Moon is in Cancer and enters Leo today at 10:54 am PDT / 1:54 pm EDT (17:54:31 UTC).
Sun Degree: 27-28 Leo.
Planetary Stations and Sign Changes
Moon enters Leo at 10:54 am PDT / 1:54 pm EDT (17:54:31 UTC).
Interesting Selected Aspects | Data by Serennu
— Sun square Bienor at 9:57 pm Aug. 20 PDT / 12:57 am EDT (04:57:06 UTC), and Sedna at 6:49 am PDT / 9:49 am EDT (13:48:51 UTC).
— Venus conjunct Cyllarus at 8:22 am PDT / 11:22 am EDT (15:22:33 UTC).
— Mercury trine Chariklo at 12:03 pm PDT / 3:03 pm EDT (19:03:26 UTC).
— Sun trine Galactic Center at 3:03 pm PDT / 6:03 pm EDT (22:03:12 UTC).
Planet Waves Daily Oracle for Aug. 19, 2017
This month you embark on one of the most get-real times of your whole life. It will last for years; it will last until you get the message perfectly. Getting real means the premium on honesty in relationships not only increases; it becomes the bottom line. Honesty is an interesting thing. There are many in this world who find it easier to hide behind layers of personality glamour denial and those foggy half-truths about who they are. In your life the fog is clearing and be glad of it. Welcome people who are brave enough to be honest with you. Be brave enough to let the world know exactly who you are.
The Oracle is a daily mini-reading divined from our extensive Horoscope Archive. You can research any Planet Waves horoscope published since 1999 at the Horoscope Archive and Oracle.
Subscribe to Planet Waves — sign up here | Visit Our Website at this link
If Your Birthday is Aug. 19
(The Day of Startling Surprises) | Leo Birthday Reading | All Other Signs
Look for the narrow opening, the unlikely advantage, the odd timing or the opportunity that you might otherwise miss. It may be looking right at you, and you may have overlooked it several times. That's the portal to the next phase of your life; indeed, to a way of life. It's not merely that 'things work out', but rather that they do so because you're cooperating fully.
Written in the Planets
Today the Moon moves into Leo: the sign of Monday's eclipse. Do you feel a quickening of energy, anticipation or emotional resonance? With the Leo Sun making a trine to the Galactic Core in Sagittarius today, taking leadership in your life in a compassionate, heart-centered way would seem to be directly in tune with our cosmic origins. See where your intuition aligns with what you love to do — or even where you'd like to dare to go — and keep any momentum going that you've been building this week. Small steps could count for a lot.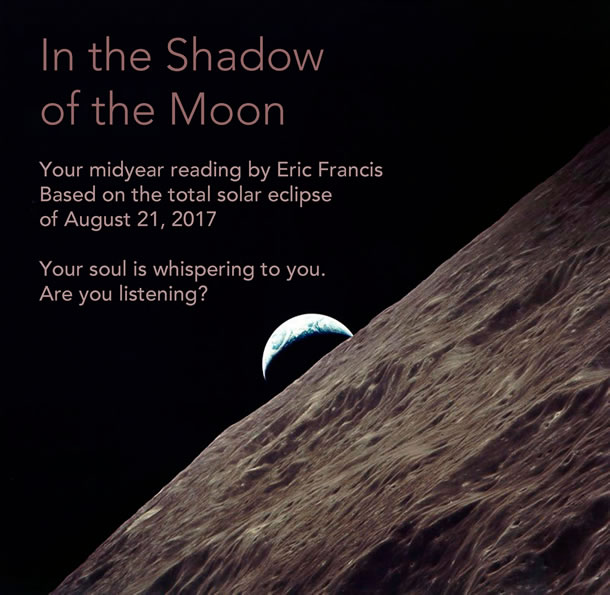 In the Shadow of the Moon, the exciting 2017 Midyear Reading by Eric Francis, has just been published. The video readings for all 12 signs cover the Great American Eclipse of Aug. 21 and well beyond. We'll be increasing the price again very soon, so don't hesitate to
order your copy here
. You can also now choose your
individual signs here
.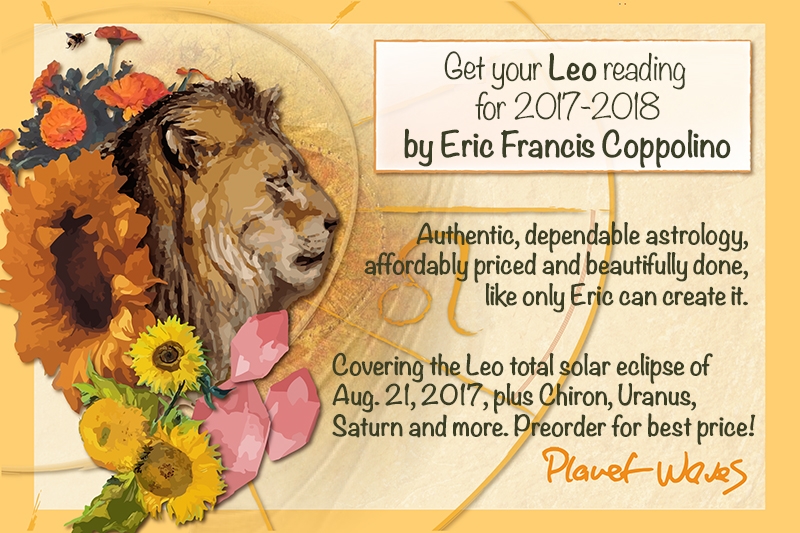 To the Leo Eclipse and Beyond!
On Aug. 21, a total solar eclipse in Leo signals the second stage of whatever life-shifting process you're engaged with.
This is a unique year for you, Leo. In addition to the current eclipses (and the double New Moons in your sign), your birthday reading will cover such astrological heavyweights as Chiron finishing up its journey through your 8th house; ever-surprising Uranus; and Saturn leaving your fellow fire sign, Sagittarius — plus more.
Are you navigating changes in your relationships or family paradigm? Do you find yourself at a career crossroads? Are you seeking clarity, encouragement and new perspectives on your creativity, self-esteem, sexuality or healing process? You'll find ideas and reassurance in this reading.
"I have just listened to your Part 1 and Part 2 readings and I am amazed at how accurate it has been. Like you have a telescope watching me shed a skin and transform into a totally changed person in the last 10 years."
– Pauline Jones
Your reading is now priced at $44; so you'll want to order your 2017 Leo Reading very soon. This reading is designed to work for anyone with Leo Sun, Leo rising and even Leo Moon — and makes an amazing gift.