Planet Waves is running a membership drive.
Read more in Solstice Fire and the Art of Service, by Eric Francis.

The luminaries (Sun and Moon) will share the same degree of Cancer, and the same degree of longitude in the sky, shortly after 9:24 pm EDT tomorrow (01:24:19 UTC Thursday) as if to demonstrate how efficacious astrology really is. All you need to do is break it down. First off, when the Sun and Moon come together like that, it is called a New Moon.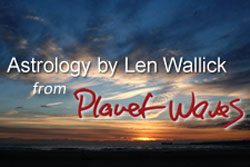 Every New Moon begins a new cycle of lunar phases culminating in a Full Moon about two weeks later, and ending in another New Moon about two weeks after that Full Moon. So a lunar cycle from New Moon to New Moon is about four weeks long.
Each New Moon is named after the sign in which the Sun and Moon conjoin. Thus, this will be a Cancer New Moon. For astrologers the sign Cancer is distinguished in part by its ruling 'planet' — the Moon.
Finally, every New Moon is unseen because its illuminated side is the side facing away from the Earth, the so-called 'dark side'. Every New Moon is also unseen because of its longitudinal proximity to the Sun, lost in the solar glare as it briefly moves through the sky alongside the Sun. The quality of being unseen, however, does not mean without consequence. The combined gravity of the Sun and Moon on the same side of Earth is quite consequential, as seen indirectly in the ocean tides.
By occurring in Cancer, the implication is that this impending Cancer New Moon will take place where the Moon's astrological symbolism is strongest. Among other things, the Moon represents the form of consciousness sometimes referred to as the unconscious. Some of the more prominent qualities associated with the unconscious are intuition, emotion, security issues, comfort issues, your childhood, and the sort of dreams usually (but not always) experienced while sleeping.
Not every Cancer New Moon is the same. During most years there is only one new Moon in Cancer. In the roughly 12 months that usually elapse between one Cancer New Moon and the next, everything else on the zodiac (and in the sky) keeps moving. The same can be said for events on Earth. That's how every Cancer New Moon has it own unique astral and earthly context through which the usual associations of a New Moon in its 'home' sign are expressed.
This year, that context is extraordinary. Late tomorrow (or early Thursday, depending on your time zone) this year's Cancer New Moon will feature some striking tangible and symbolic correlations taking place at the same time.
Among the tangible correlations will be the location of a space-faring robotic device and the status of a large system created by (and influential for) humans here on Earth: the world economic system. Included in the array of symbolic correlations will be an uncanny alignment of planets, which either implicitly or explicitly correspond with the tangible correlations.
Take that robotic device, for example. Known as New Horizons, it was launched from Earth in 2006, back when astronomers counted Pluto among the nine planets (along with Mercury, Venus, Earth, Mars, Jupiter, Saturn, Uranus and Neptune) in the solar system.
At long last, New Horizons is making its closest flyby approach to Pluto today, opening a new cycle of space exploration, and roughly concurrent with the Cancer New Moon. That sort of timing can't be ignored, especially if you factor in other, also concurrent events. Nor can the fact that Pluto (and New Horizons) will be unseen be construed to indicate no meaning.
Factor in what has become almost by default a world economic system. It is a system through which the hopes, dreams, security and safety of every human being are unavoidably and undeniably interconnected, although often in unseen ways. Now, and also concurrent with the Cancer New Moon, that system (which has evolved almost unconsciously) is confronted with a flood tide of unprecedented questions and problems — which will probably and ultimately require a new beginning of some sort to resolve.
Finally, take look at the astrology of this impending Cancer New Moon. Also in the sign Cancer with the conjoined luminaries are two planets that often correspond with economic themes for astrologers: Mercury and Mars. What's more, as if to emulate and sing in refrain with the luminaries, Mercury and Mars will be precisely conjoined (to the degree) at the time of the Cancer New Moon. In addition, the Mercury-Mars conjunction will be precisely (also to the degree) opposing Pluto's position in Capricorn.
Among other things, an opposition can be said to represent a confrontation seeking a resolution. You can't make this sort of stuff up. In addition, there is the third planet often associated with economics — Venus. At the time of the Cancer New Moon, Venus will literally be on the cusp of changing signs from Leo to Virgo.
For astrologers, a planetary sign change indicates a new beginning, much as a conjunction does. If all that is not enough, once Venus does enter Virgo it will remain in the first degree (what you might call its new horizon) for about two weeks while in the process of stationing retrograde. Venus will then return to Leo (where it is today) just after the Aquarius Full Moon on July 31.
All of that astonishing and indisputable correlation and more will be part of the Cancer New Moon. All of that exquisite and amazing timing will also be part of this luminary conjunction. Finally, there are bound to be unseen but consequential events taking place behind the closed doors of economic power, as well as up in the vicinity of Pluto.
Much as with the data we await from a spacecraft even now flying past Pluto, nobody can predict with credibility what those consequences will be or what they will ultimately mean.
But if you have ever doubted that astrological events do in fact correlate with events in your life, this particular Cancer New Moon (which will take place while many of us are sleeping and dreaming) should be enough to put your doubts to rest.
Offered In Service
Len is available for astrology readings. You can contact him at lenwallick [at] gmail [dot] com.