Links to today's show transcripts:
Hurricane Harvey: Zip Code & Race Determine Who Will Bear Burden Of Climate Change
Concern continues to grow over the environmental impact of Hurricane Harvey on the Houston area, home to more than a dozen oil refineries. The group Air Alliance Houston is warning the shutdown of the petrochemical plants will send more than 1 million pounds of harmful pollution into the air. Residents of Houston's industrial communities have reported unbearable chemical-like smells coming from the many plants nearby. Stranded communities are "literally getting gassed by these chemicals," according to Bryan Parras, an activist at the environmental justice group t.e.j.a.s. Those closest to these sites in Houston are disproportionately low-income and minority communities.
Dr. Robert Bullard: Houston's "Unrestrained Capitalism" Made Harvey "Catastrophe Waiting to Happen"
The death toll continues to rise as massive amounts of rain from Hurricane Harvey flood Houston and other parts of Texas and Louisiana. The Houston police and Coast Guard have rescued over 6,000 people from their homes, but many remain stranded. Meteorologists forecast another foot of rain could fall on the region in the coming days. While the National Hurricane Center is now calling Harvey the biggest rainstorm on record, scientists have been predicting for years that climate change would result in massive storms like Harvey.
Immigrants in Houston Face Triple Threat: Flooding, Racist Texas Law SB4 & Potentially Losing DACA
As the fallout from Hurricane Harvey continues, a potential public safety crisis has emerged affecting Houston's nearly 600,000 undocumented immigrants. President Trump could announce as early as today that he will end the Deferred Action for Childhood Arrivals program, or DACA, which provides legal status for some 85,000 Houston residents and nearly 800,000 people nationwide. Without the status, many residents will be unable to work and rebuild after the storm. Compounding the problem for immigrants, Texas will officially outlaw sanctuary cities on Friday, threatening police chiefs and city officials with criminal sanctions and penalties if they do not help deport immigrants. The law known as SB 4 is being challenged in court, but a federal judge has yet to rule on whether it can take effect. This has prompted concern that many immigrants are not coming forward to seek help amid the flooding because they fear being detained and deported.
1,200 Die as "Devastating" Climate Change-Linked Floods Submerge Parts of South Asia
In the past month, more than 1,200 people have died amid flooding in Bangladesh, Nepal and India. This year's monsoon season has brought torrential downpours that have submerged wide swaths of South Asia, destroying tens of thousands of homes, schools and hospitals and affecting up to 40 million people. Aid organizations are warning that this is one of the worst regional humanitarian crises in years, with millions of people facing severe food shortages and disease caused by polluted flood water. Flood victims in southern Nepal say they have lost everything.
Just Before Harvey, Trump Admin Revoked Rules Requiring New Infrastructure to be Climate Resilient
Two weeks ago today, Trump signed a widely overlooked executive order to revoke Obama-era standards that required federal infrastructure projects like hospitals to factor in scientific projections for the effects of climate change, such as increased flooding. Critics say the reversal will put more lives in danger by exposing U.S. infrastructure to the kind of damage inflicted by hurricanes and superstorms including Harvey, Sandy and Katrina. Obama's order marked a rare climate change measure that was praised by both conservative and progressive groups. Trump announced the reversal during the now infamous press conference in the lobby of Trump Tower that was largely overshadowed by his remarks defending the white supremacist protesters behind the violent rallies in Charlottesville, Virginia.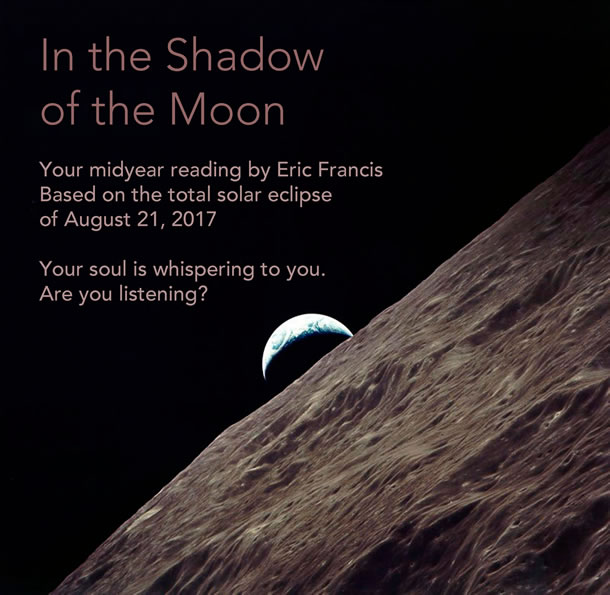 In the Shadow of the Moon, the exciting 2017 Midyear Reading by Eric Francis, is now published. The video readings for all 12 signs cover the Great American Eclipse of Aug. 21 and well beyond. We'll be increasing the price again very soon, so don't hesitate to
order your copy here
. You can also now choose your
individual signs here
.