Links to today's show transcripts:
As Deadly Wildfires Rage in California, a Look at How Global Warming Fuels Decades of Forest Fires
In California, powerful winds and bone-dry conditions are fueling massive wildfires. A state of emergency has been declared in northern areas as the fires have left at least 17 people dead, destroying whole neighborhoods and forcing 20,000 people to evacuate their homes. The wildfires come after the U.S. Forest Service warned last year that an unprecedented 5-year drought led to the deaths of more than 100 million trees in California, setting the stage for massive fires. Climate scientists believe human-caused global warming played a major role in the drought.
Weeks After Hurricane, Puerto Rico Lacks Water, Working Hospitals, Electricity & Considers Solar
Three weeks after Puerto Rico was devastated by Hurricane Maria, President Trump asked Congress for $4.9 billion loan to help the island pay government salaries and other expenses. This comes as he allowed a 10-day waiver of the Jones Act to lapse, restricting shipments of food, fuel and medicine from foreign-flagged ships as nearly half of the island still lacks clean water and nearly 90 percent lacks electricity. This comes as military security firms continue to patrol the streets of Puerto Rico's capital San Juan, and Academi, formerly known as Blackwater, has a pending bid to provide security services for water transportation. Meanwhile, solar companies and nonprofits say they could help Puerto Rico regain power.
Rev. Jesse Jackson: Colin Kaepernick is a "Martyr" & Deserves the Right to Play Football
Rev. Jesse Jackson speaks about how Vice President Mike Pence flew to Indianapolis to stage a walkout of an NFL game between the San Francisco 49ers and Indianapolis Colts, after players on both teams held a protest against racial injustice during the national anthem. Pence tweeted he was there, but used an old photo, and the incident is being condemned as an expensive stunt.
Rev. Jesse Jackson: Defend the Constitutional Right to Vote & Expand Automatic Voter Registration
Rev. Jesse Jackson discusses how his Rainbow PUSH Coalition has set up its own commission of scholars and activists to look into voter suppression. This comes as President Trump convened an Advisory Commission on Election Integrity to look into his allegations of voter fraud during the 2016 presidential election. Jackson is also on a tour of college campuses to register voters.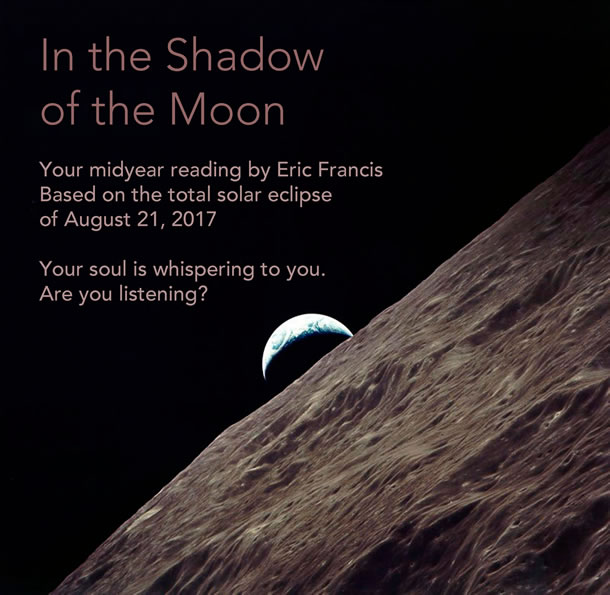 In the Shadow of the Moon, the exciting 2017 Midyear Reading by Eric Francis, is now published. Although the video readings for all 12 signs use the Great American Eclipse of Aug. 21 as a starting point,
Eric develops the themes through some of the most important astrological events you'll encounter in the remainder of 2017 and beyond
. We'll be increasing the price again very soon, so don't hesitate to
order your copy here
. You can also now choose your
individual signs here
.