Links to today's show transcripts:
Environmental Disaster Looms in Puerto Rico, Lashed by Hurricane Maria & Left Without Power
Hurricane Maria made landfall in Puerto Rico Wednesday as a Category 4 storm, bringing record rainfall and catastrophic flooding, destroying power lines and leaving the entire country in the dark. This comes as many homes on Puerto Rico were still dark two weeks after Hurricane Irma cut electricity to hundreds of thousands. The storm also raised concerns about potential environmental disasters. Puerto Rico is home to 23 Superfund sites, including on the island of Vieques, site of a former U.S. naval test range, which took a near-direct hit from the storm. It is also the site of a coal-fired power plant owned by the private company AES. Residents across the island have been demanding the plant be closed and that the company stop dumping toxic coal ash into their community, saying the waste is poisonous to their health and the environment.
Jeff Sachs Warns "Nuclear War is a Real Threat" as Trump Threatens to "Totally Destroy" North Korea
On Tuesday, Trump gave his first address to the United Nations General Assembly, boasting about the size of the U.S. military and threatening to "totally destroy" North Korea. "[N]uclear war is a real threat," says Jeffrey Sachs, leading economist and director of the Center for Sustainable Development at Columbia University. "It's not some idle imagination right now. You have two leaders—both seem unstable—yelling at each other. Both have nuclear arms."
Economist Jeff Sachs: Americans Who Don't Want War with Iran Must Speak Out Now
Donald Trump's comments at the United Nations General Assembly urging the withdrawal from the Iran nuclear deal sounded familiar to Jeffrey Sachs. "The last time we had this kind of rhetoric was George W. Bush with the axis of evil," Sachs said. "It was immediately followed by the Iraq War, which was the most disastrous single step of American military action and 'diplomacy,' or anti-diplomacy, in modern times. So this is a setup, again, for war, for conflict. And it is extraordinarily ignorant and dangerous. Iran is in compliance with the agreement that was reached."
Trump Admin Doubles Down on Plans to Withdraw from Paris Deal as UNGA Makes Climate Top Priority
At the United Nations, President Trump's chief economic adviser, Gary Cohn, said Monday the U.S. would withdraw from the landmark 2015 Paris climate accord as planned. His comments came as U.N. Secretary-General António Guterres said climate should be a top priority at this year's General Assembly. Economist Jeffrey Sachs notes that the "agreement is completely symmetrical for all 193 countries," and also argues that chemical and oil companies should help pay for recovery efforts after extreme weather related to climate change.
"One Long Night": Writer Andrea Pitzer on History of Concentration Camps & Rise of Intolerance Today
A humanitarian crisis is unfolding in Burma, where more than 400,000 members of the Rohingya Muslim minority have fled the country after hundreds of their villages were burned to the ground. The U.N. high commissioner for human rights has accused the Burmese government of waging a textbook example of ethnic cleansing. In the United States, there are increasing displays of anti-immigrant sentiment and anti-Semitism. In Palestine, the United Nations has warned the Gaza Strip has become uninhabitable.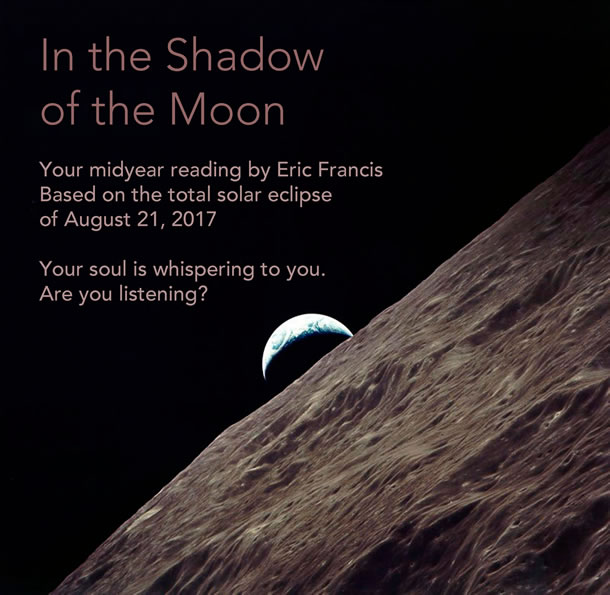 In the Shadow of the Moon, the exciting 2017 Midyear Reading by Eric Francis, is now published. Although the video readings for all 12 signs use the Great American Eclipse of Aug. 21 as a starting point,
Eric develops the themes through some of the most important astrological events you'll encounter in the remainder of 2017 and beyond
. We'll be increasing the price again very soon, so don't hesitate to
order your copy here
. You can also now choose your
individual signs here
.