Links to today's show transcripts:
Naomi Klein Warns Europe May Water Down Paris Accord to Win Support from Trump
Donald Trump on Tuesday is scheduled to address the United Nations General Assembly. Climate change is expected to be high on the agenda at this year's gathering. As the world leaders meet, another major storm—Hurricane Maria—is gaining strength in the Caribbean and following a similar path as Hurricane Irma. The current forecast shows Maria could hit Puerto Rico as a Category 4 storm as early as Wednesday. The U.S. Virgin Islands, which were devastated by Irma, also appear to be in line to be hit by Maria. Meanwhile, The Wall Street Journal reported over the weekend that the Trump administration is considering staying in the Paris climate agreement, just months after the president vowed to pull out of it. The White House denied the report. Secretary of State Rex Tillerson on Sunday signaled Trump may back away from the Paris accord, but National Security Adviser H.R. McMaster gave a different message on Fox News Sunday.
Naomi Klein: We Are Seeing the Shock Doctrine in Effect After Hurricanes Harvey & Irma
Houston Mayor Sylvester Turner has tapped the former head of U.S. operations for oil giant Shell to lead Houston's post-Hurricane Harvey recovery effort. Marvin Odum was the chair of Shell for eight years. He retired in 2016. Hurricane Harvey killed at least 82 people, flooded thousands of homes and destroyed billions of dollars of property. It also caused widespread environmental contamination, triggering a half-million-gallon gasoline spill and the release of up to 5 million pounds of pollutants into the air.
No Is Not Enough: Naomi Klein on Bernie's Medicare-for-All Bill & Future of Democratic Party
Last week, Vermont independent Senator Bernie Sanders introduced a bill that would provide universal healthcare by expanding Medicare to include every American. Sanders introduced the bill flanked by doctors, nurses and some of the bill's 15 Democratic co-sponsors.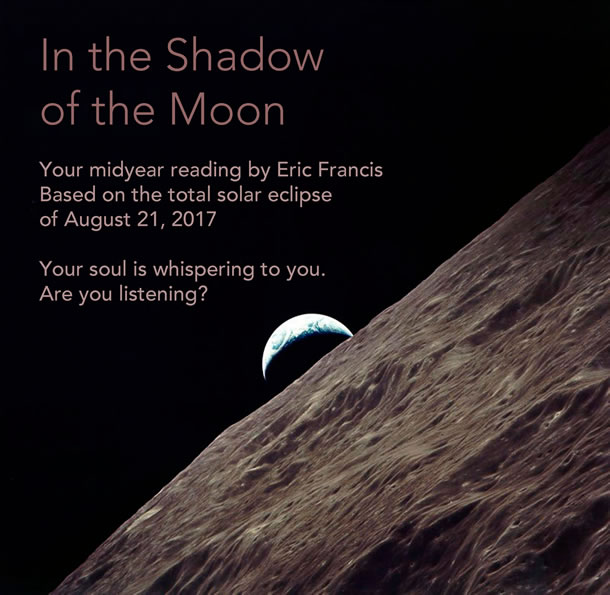 In the Shadow of the Moon, the exciting 2017 Midyear Reading by Eric Francis, is now published. Although the video readings for all 12 signs use the Great American Eclipse of Aug. 21 as a starting point,
Eric develops the themes through some of the most important astrological events you'll encounter in the remainder of 2017 and beyond
. We'll be increasing the price again very soon, so don't hesitate to
order your copy here
. You can also now choose your
individual signs here
.