Part of being human is encountering and dealing with limits. For example, you actually cannot fly as a bird does, even though you might imagine yourself doing so. Unlike a bird, you were not born with wings. Even so, you do have something else going for you — free will. You can choose how to deal with your limits.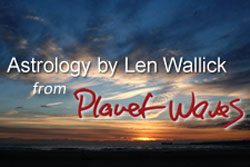 You can choose to allow your lack of wings to confine you to the ground. Conversely, you can also elect to be defined by what you do have to work with. For instance, you can choose to employ your hands to supplement your imagination and make a device that gets you off the ground.
The same principle applies to working with astrology's corollary for limits: Saturn. All too often, the ringed planet is interpreted so as to take only its confining downside into account. Actually, that's not a surprising perception. Nonetheless, it is outdated.
For all anyone knew, an emblematically stern and authoritarian Saturn represented the outer limits of the solar system until just over two centuries ago. Interestingly, human life on Earth often followed suit. Up until relatively recently, most people's prospects in life were confined by the station they were born into. For most of human history, responsibility was defined as the acceptance of that confinement.
Then, right around the time Uranus was unexpectedly discovered in 1781, there came an age of revolution. The all-but-unprecedented experiment of replacing hereditary monarchies and opportunistic warlords with participatory republics was an audacious idea. It was a bold and imaginary concept of instituting a greater freedom accompanied by greater responsibility for exercising free will, so that a previously subservient and politically inconsequential majority could define itself.
What has followed since is the continuous application of imagination and innovation. The result has been both additional planetary discoveries and the evolution of alternative models for governance.
Now it would seem that our world is poised at a critical passage. There are presently a significant number of people who would have astrology once again confined within the limits of Saturn's orbit. There are even more who would surrender individual freedom and cede individual responsibility to a strong leader. Interestingly, both the astrological and political initiatives to roll back to a bygone era require either stubborn denial or willful ignorance of all that has been proven since the 18th Century.
It has been proven that awareness of Uranus, Neptune, Pluto and other objects in the solar system have value for astrologers. It has also been demonstrated beyond reasonable doubt that political power concentrated in the hands of only a few serves the best interests of only a few.
Indeed, even Saturn itself clearly indicates that progress must ultimately triumph over regress. Earlier this year (on March 25, 2016), Saturn stationed retrograde in the 17th degree of Sagittarius.
Tomorrow, just before 6 am EDT (09:49:37 UTC), that retrograde will end in the 10th degree of Sagittarius. Saturn will then slowly resume direct motion and progress into the 28th degree of Sagittarius before its next retrograde begins in 2017. As result, the net motion of Saturn is always forward, not backward, continuously moving beyond previous limits.
As above, so below. Even allowing for periodic setbacks, it is natural for you and humanity as a whole to ultimately and continuously move forward and transcend the confinement of previous limits, to define oneself anew. To do so takes imagination and freely exercised will, which is where you come in.
It is never natural or in harmony with any part of the universe (even Saturn) either to go backwards or to remain confined. Yet, somewhat ironically, you can choose to do so. Just as Saturn has a confining downside and a defining upside, so does free will.
Even though Saturn will inevitably and predictably start moving forward again tomorrow, it is not fated that you or humanity as a whole will do the same. Unlike in the heavens or on the zodiac, the direction you and the rest of us take from this point on will be a matter of choice.
Offered In Service