Coming up on Thursday is a square aspect from Venus in Sagittarius to Neptune in Pisces. It is not a rare event. Even so, in context with the rest of the sky, Venus square Neptune this time around is an opportune time to check your assumptions just as you would check to make sure you have your key before closing a door behind you.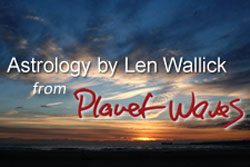 A quick check can save a lot of grief, like getting locked out. Because Venus is moving pretty quickly right now (faster than any other sign rulers, save Mercury and the Moon), a quick check should be all you need.
As with anything to be checked quickly, you need to know where to look. Fortunately, the relationship between Venus and Neptune will help you you know. What Sagittarius and Pisces have in common will also help indicate how square aspects between those two signs are best resolved.
Interestingly, a lot of astrologers subscribe to the notion that Venus and Neptune represent different octaves of the same theme. In other words, the same same note or chord, at a different pitch.
Venus and Neptune as the same note or chord at different octaves is something to keep in mind when you check your assumptions over the next few days. Know where to look by asking where the assumptions come from. Do they come from personal experience? From your generation? Or from your gender orientation, ethnicity, nationality or beliefs?
Venus has a lot to do with your personal experience. More than that, the values and ideals derived from and/or supported by your personal experience correlate most closely with Venus.  All of which are valid. All of which play a role in the small (and sometimes large) assumptions you make as you go about your day. Not all of which are shared by others.
For example, you may very well have the assumption that, when you leave home and go out in the world, you will not be abused by authority figures. That assumption may be true for you. Unfortunately it is not true for everybody, and that's just one assumption based on personal experience to check at the door lest you lock yourself out from other people's realities.
Neptune, on the other hand has more to do with experiences of entire eras and broader means of connection. Neptune correlates most closely with what you might refer to as 'their' values, or 'our' ideals. All of which play a role in the assumptions made (sometimes in error) for you, rather than by you.
For example, others may be led to assume things about you because of your apparent gender, age, name, accent, the color of your skin, how you dress or where you live. Or you may make assumptions yourself based on the same factors.
Fortunately, such assumptions are not true for everybody, and it's good to quickly check in with yourself as to where such assumptions are for you.
Once you have located the origin of your assumptions, you can test them against other assumptions of different origin and resolve any harmonic tension you encounter by taking actions to change. You can start by including experience you had not previously identified with. That's where Sagittarius and Pisces come in.
Sagittarius and Pisces have a quality in common — the quality of mutability (along with Gemini and Virgo). Mutable signs follow fixed signs and precede cardinal signs. These are the slices of the zodiac where the Sun is moving immediately preceding a change of season.
Aspects between mutable signs (or any two signs which share the share the same quality) are separations of 90 degrees on the zodiac and are called square.
Square aspects feel tense — that's how you recognize them. Nearly all of the time the tension originates and/or resides within you, such as with your assumptions. Unfortunately, some of the time you are tempted to blame those tensions on others.
Mutable signs have the quality of facilitating change (or at least being present to it) as an important component of reality. One way to resolve mutable squares is therefore to hold space for change or to support change in yourself as an alternative to demanding change of others.
Sagittarius and Pisces are also originally ruled by Jupiter (although newcomer Neptune is a very appropriate co-ruler for Pisces).
In the words of Robert Hand: "At the most fundamental level Jupiter signifies the individual reaching out to include more and more of the universe and its experience within himself or herself."
Hence, one way to resolve square aspects specific to Sagittarius and Pisces is to make like Jupiter, and not make assumptions based solely on either personal experience or collective components of your own personal identity. Whether fortunately or unfortunately, the holistic picture for the next several days looks like it will be essential to make like Jupiter.
That's because looking at the solar system and zodiac as a whole over the next several days indicates a potential for unnecessarily locking yourself out from access to either information or other people you would be better off connecting with.
To guard against such a possibility, check for your key by quickly checking your assumptions. As tensions come up, at least consider changing yourself by taking into consideration the assumptions of others in order to promote a greater harmony, both within yourself and in the world.

Offered In Service
Len is available for astrology readings. You can contact him at lenwallick [at] gmail [dot] com.