Astrology isn't worth much unless it's applicable in and to your life. Assuming you agree with that assertion, the question of how to make astrology applicable depends on what your life consists of. Change is very possibly the only constant in life, so that's one thing. Also, carrying on with your life does seem to require self-awareness possessed both of and by a physical body.
Hence, your life in this material world might to be said to at least include change and possession as fundamental constituents. Possession in this, our material world, must likewise include a relationship with tangible things.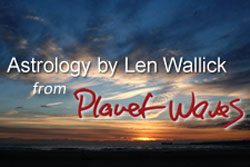 In astrology, tangible things correlate closely with the four elements: fire, earth, air and water. Among those four, earth could reasonably be considered the most tangible element.
Change is something that takes place over time, and time is anything but tangible. For astrologers, change might be said to correspond with the three qualities: cardinal, fixed and mutable. Of those three, mutability would logically be considered the most change-able quality because (as Eric noted in a recent podcast) it can best and most often evince something of the other two.
Each of astrology's twelve signs is distinguished in part from the other eleven by a unique combination of element and quality. After the Sun enters Virgo shortly after 6:37am EDT (10:37:14 UTC) on Sunday, the solar emblem of consciousness will be expressing through the one and only sign that combines earth with mutability.
Each of the signs is also distinguished in part by a ruling planet. Mercury rules Virgo. Virgo is also where Mercury is exalted. Indeed Virgo is the only sign which doubles down in that way. Since one of the ways Mercury manifests in your life is as mind and the means by which mind makes itself known, solar Virgo is an appropriate time to be aware of, think about and discuss change, possession and your relationship with both.
At first, the combination of mutability with earth might appear to be a contradiction. The same might be said for the combination of change and possession, but that would be over-simplifying things. Granted, one does customarily construct a building's foundation on the ground rather than in the air, on a fire, or in the water. But earth in the elemental sense entails more than just the ground under your feet.
Earth as a planet and in the elemental sense is a dynamic thing. Earth as a planet is the field upon which change plays out in your life. Earth in the elemental sense is also what change acts upon so as make the intangibility of time evident. Hence, possession on Earth is not really owning stuff, it's owning your place in a dynamic. Indeed, ownership of tangible things (including your body) is ultimately among the most fundamental of over-simplifications.
Ultimately, all tangible things are shared. Your body is not a static thing; it is a dynamic thing. Energy, solids, air and water all pass through your body. With few exceptions, the material that makes most of your physical being turns over and is replaced many times in the course of your life. Ultimately, and without exception, every last atom is returned to the physical realm when your life is over.
You bring no tangible things, including your body, into this world with you – it is all acquired here. Neither do you leave this world with your body or any other tangible things. All you leave with is what you have done while acting as a custodian.
Hence, the greatest form of possession is to consciously own any changes you bring about by what you do with your body and other tangible things while you are here. Likewise, the most lasting and meaningful changes are made not on the material world and its things, but with them on yourself.
The essentials of change and possession are thus fundamental to the mutable earth that is Virgo, and all the things that Virgo can be construed to mean. This year, that essence will be symbolically encountered by the Sun in Virgo as never before in your life.
For this year, very shortly after the Sun enters Virgo it will conjoin with Jupiter to amplify the essence. Furthermore, as it applies to conjoin with Jupiter, the Virgo Sun will simultaneously oppose the centaur object Nessus, retrograde in Pisces. In the words of Cam Hassard, Nessus correlates with the "complex interplay of causes and effects." And it is largely through your engagement with possession and change that cause and effect are manifested in the world.
That combination of aspects (Sun opposing Nessus while moving to conjoin Jupiter) upon the Sun's ingress to Virgo is without precedent in your lifetime. Hence, the initiation of solar Virgo this year will apply to your life as at its most fundamental as never before in your experience. Of course, you have a place in all of this. Your place is to make it real.
To make it real you need to become a part of this historically significant solar ingress to Virgo. Cause and effect begin with you. In order for the astrology to apply to you, you must apply yourself. It means applying yourself and all you possess with conscious awareness and mindful intent. Not to change the world, but to change yourself into the best agent of cause and effect you can be. That's how astrology works. That's why it will be good to be alive when the Sun enters Virgo this year.
Offered In Service
Len is available for astrology readings. You can contact him at lenwallick [at] gmail [dot] com.