As this week progresses, astrology's focus (and yours) must necessarily widen to take in Mercury's next move: an ingress to Pisces. Mercury will enter Pisces at 11:52 pm EDT Thursday (03:52 UTC Friday). That's big news made all the bigger by the fact that Mercury has been in Aquarius a long time — since Jan. 4 or Jan. 5, depending on your time zone.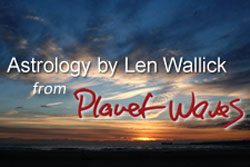 Mercury is a versatile archetype, expressing in many ways. Among other things, Mercury has to do with mind — your mind in particular. Also, Mercury correlates with the means by which thoughts and other more tangible things move in the world.
How Mercury expresses has a lot to do with the sign it's in. Signs are to planets what costumes are to stage actors. A change of costume nearly always implies a change of role.
Regardless of where it is on the zodiac, Mercury's role in your life has been made all the greater in this century because of the influence electronic media (an extension and expression of mind) has swiftly taken on in the world.  
On average, Mercury's apparent motion around the zodiac circle is significantly more swift than any other celestial object except the Moon. It usually takes Mercury only a bit more than two weeks to cross from one sign cusp to the next. Hence, only a retrograde entirely within the bounds of one sign can keep Mercury acting in a single costume for more than two months.
Mercury retrogrades are common — usually three times a year, about three weeks at a time. Three weeks in reverse motion functions to take Mercury forth and back and forth again over the same arc of the zodiac three times, in a cycle lasting nearly two months. Visualize three swipes of a windshield wiper on your automobile (except in very slow motion) and you get the picture.
It is not quite common for the three swipes of any given Mercury retrograde cycle to take place entirely within the confines of one sign. It is not every year that all three Mercury retrogrades are that way. This is one of those years.
The last such year was 2012, when Mercury was first retrograde entirely in Pisces, followed by a series of swipes limited to Cancer, concluded by a cycle confined to Scorpio. All told, Mercury spent half of 2012 in those three water signs. This year, it's the air signs: first Aquarius, then Gemini and finally Libra.
For the time being, however, Mercury is about to leave both retrograde experiences and an airy milieu behind. Soon, Mercury (and, by implication, all in your life that it corresponds with) will begin manifesting through an entirely different raiment — Pisces. It will probably take some getting used to.
What you might anticipate is something akin to discomfort — at least at first. For example, being able to hear yourself think could conceivably (and rather suddenly) become more of a challenge. That's how you might want to work some regularly scheduled quiet times into your life by Friday. You may even want arrange some quiet space to be in over the weekend
Similarly, a discomforting message or two may come your way over the next couple weeks. If that should happen, respond so as to make things easier for yourself. Procrastination in reply will almost certainly not be a viable option. Conducting your communications consistently and carefully so as to assuage others will encourage returns in kind.
Also, as mundane as it may sound, Pisces (as a water sign) implies how all things Mercury will soon be more subject to immersion, both literally and figuratively. Since tangible water is rarely compatible with electronics, take precautions.
If it is your habit to take a cellular phone into the bathroom, try calling a moratorium on that practice. Likewise, keeping your beverages on a surface separate from your keyboard would be prudent. Finally, if by some chance you indulge in alcohol during what remains of March, you might want to refrain from dialing anybody or sending anything until sober — unless you are calling a cab or a designated driver to get you safely home.
Fortunately, with the exception of delicate electronic devices and heavy machinery operated under the influence, nearly everything else Mercury can be associated with is usually very resilient. After more than two months of Mercury in Aquarius, your mind will probably have regained its sea legs in a matter of days.
Nonetheless, it has been a long time. It would be helpful if you were aware of that. Mercury has a major part in your life. Accordingly, it makes sense to think ahead a few days, and plan for a significant transition of that role as Thursday segues into Friday.
Offered In Service
Len is available for astrology readings. You can contact him at lenwallick [at] gmail [dot] com.