Planet Waves is running a membership drive.
Read more in Solstice Fire and the Art of Service, by Eric Francis.

Today, and for the next few days, we're in the last phase of the lunar cycle, known as the balsamic — when the Moon is 45 degrees behind the Sun, or less. I just spent some time looking for how the word 'balsamic' got associated with this phase of the Moon.
There were no references that I could find in astrology dictionaries. I checked Culpeper's Herbal, to no avail. The best information I could find was from the old reliable Etymology Online Dictionary, which defines balsam as "aromatic resin used for healing wounds and soothing pains."
I don't know if the mysterious name of this somewhat mysterious Moon phase relates to that, though let's consider the balsamic phase one of resolution, of healing, of closure and of preparing to come together.
It will be a few days before the Moon and Sun form their once-only this year conjunction in Cancer. That's exact Wednesday, July 15, at 9:24 pm EDT (July 16 at 01:24 UTC). Even though it's in the future, we can align with the energy of this aspect pattern as soon as we're aware of it.
We will have more to say over the coming days about this lunation, but I will offer you a short preview now. This is a potent event for a few reasons, one of them being that the Moon-Sun conjunction will be exactly square Eris; that in effect brings Eris fully into the scenario, and that in turn is urging introspection.
Be mindful of the ways you experience being divided against yourself. Be mindful of any effort to deceive by compartmentalization or fragmentation. Be aware of subversive agendas, yours or those of anyone else.
Such a close square from the New Moon to Eris qualifies as a proving moment for Eris, and we will be getting it in the form of a square aspect. The themes in the paragraph above are specifically related to Eris; there will be others we don't know about yet.
At the same time as that pattern happens, Mercury is conjunct Mars, and both are opposite Pluto. Note that this is a significant, unusual Pluto aspect, timed for within hours of when the New Horizons spacecraft makes its closest approach to Pluto after traveling three billion miles to get there (that will happen on Tuesday, July 14).
That will be as palpable as Moon-Sun square Eris, though it feels different. That is the seeming outer engagement or confrontation. The sides in this are not equally balanced and most people will not pick up on where the power really is — consider if that describes a situation in your life.
In essence, the party who is direct and real about what they are feeling is going to prevail. This is a situation where sincerity, clarity and the ability to articulate one's viewpoint actually matter. So be cool, clear-headed and focus your words.
The New Moon is arranging itself around this kind of situation, or describes the inner politics of something. And remember, there is a purpose, which is authentic resolution. It will help to want it. You may not notice what's happening if you don't. But if you're interested, this is a rich moment to set your intentions and carefully guide the craft of your mind.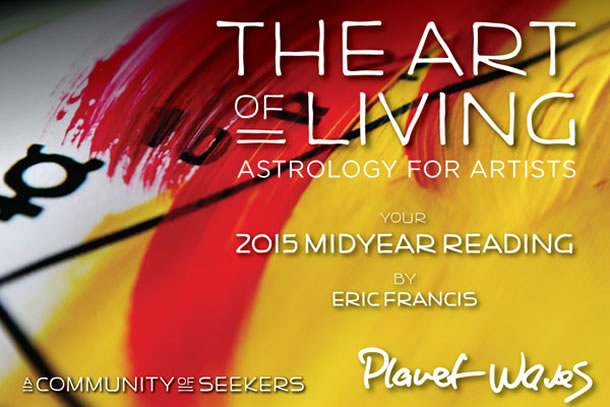 We are now offering for pre-order the 2015 Midyear Report — The Art of Living / Astrology for Artists. The theme is how to live artfully; how to turn your life into a creative project; and how best to integrate conscious creation into your life, as a way of life. This is a 12-sign audio reading plus an introduction which will move elegantly through the astrology of the second half of the year — Venus retrograde, the two additional Venus-Mars conjunctions, the two additional Venus-Jupiter conjunctions, and Jupiter ingressing Virgo. You may pre-order here. Note, this fantastic project is a fundraiser for Planet Waves. Thank you for signing up. You will love it. By the way, I describe the project in detail, along with my personal commitment to the subject matter, in the last segment of this week's Planet Waves FM.