It seems like such a long time ago. It feels like ages since the process of selecting presidential candidates started in the U.S. Indeed, one would be hard pressed to even know when the journey started. Everybody with a civil calendar, however, knows when the race is scheduled to end.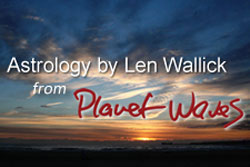 Nov. 8 is the day set aside for voters in the U.S. to have their say. After so long reaching this point, a bit more than three months would not appear to be much more. Mercury, however, just may be about to indicate otherwise.
Mercury enters Virgo tomorrow and will remain in this sign, which combines both its rule and exaltation, until Oct. 7. The reason Mercury's tenure in Virgo will be so long is its upcoming retrograde. It will not be just any retrograde, either.
On Aug. 30, Mercury will pivot in the very last degree of Virgo, then walk back to the midpoint of this mutable earth sign. It will resume direct motion on the same day of this year's Libra equinox (Sept. 22). Add just over two more weeks before Mercury finally exits Virgo, and a long, eventful road is clearly implied.
Versatile Mercury manifests in many ways. There is, however, one theme that ties many of Mercury's worldly expressions together: that of mental constructs. Perhaps most notable among the elusive intellectual intangibles that you take for granted as reality is the concept of time.
Everybody has had the experience of time flying by. So have you undoubtedly been through what seems like a great length of time elapsing in what is technically a short while. Depending on your personal relationship with both the sign Virgo and the planet Mercury, it would appear as if one form of time distortion or the other will begin for you tomorrow and extend into the next season.
For those of you who are U.S. citizens, the more likely possibility is a long journey to the polls in November. You may expect nearly as many steps back as forward. That's because Mercury will ultimately cover 60 degrees of ground within the boundaries of a 30-degree slice of the zodiac before it finally leaves Virgo behind.
In all probability, the next several months will give you reason to contemplate not only the origins of the U.S., but also the origins of its origins. Just as possible (and every bit as important), you will almost certainly have occasion not only to glimpse, but to contribute to shaping a distant future.
In other words, even with as long as it has taken to reach this juncture in your life, the journey has evidently just begun. As such, you may want to prepare in kind. Pace yourself. Take frequent breaks. Drink water. Note the landmarks and enjoy the view. Savor and seek to make the most of every moment.
After a year in which so may cultural icons and loved ones have taken their leave, you are undoubtedly still here for a reason. If there is anything to what Mercury entering Virgo tomorrow implies, at least part of that reason will be revealed before this season comes to a close.
Offered In Service