It is possible to move through space at high speed without sensing it so long as the rate of motion is constant. An airplane leveled out and cruising in mid-flight is one example. The briskly spinning Earth swiftly orbiting the Sun is another instance. Moving through a typical period of two weeks between eclipses (as we are now) can be a similar experience.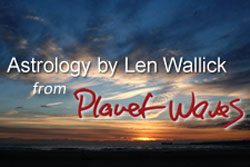 As next week begins, however, you should get a sense of motion through your life thanks to Mercury and Mars. Both planets will change signs as Monday segues into Tuesday. As result, what has been constant about the rate of your experience will probably change.
Some things are likely to speed up. Other things are looking to slow down. Either way, all things will be more manageable for you if you can discern what parts of your life correspond with Mercury and what parts correlate with Mars. That way, you can anticipate changes in the rate at which things move for you and either accelerate or decelerate along with them. 
Mercury will probably correlate with parts of your life that experience acceleration next week, when it moves from Pisces into Aries at 9:44 pm EDT Monday (01:44 UTC Tuesday). That's partly because Mercury's apparent motion actually is accelerating at this time and will continue to do so as it gradually catches up with the Sun for an exterior (or "superior") conjunction at 19+ Aries on April 10.
Additionally, Mercury is bound to express itself more energetically in the fiery element and cardinal quality of Aries than in Pisces. As you have probably experienced since Mercury entered Pisces back on March 13, introversion and introspection have been the mental order of the day more often than not. A lot of that has to do with the fact that Pisces opposes Virgo, one of the two signs (along with Gemini) where Mercury rules the roost.
Hence, Mercury has been a proverbial stranger in a strange land for nearly two weeks. After Monday, however, both your mind and its means of expressing itself (which, among other things, is what versatile Mercury represents), will probably quicken. You may, however, want to think twice before quickly acting on those thoughts.    
That's because Mars will leave Aries behind to enter Taurus at 12:26 pm EDT (16:26 UTC) Tuesday, less than 15 hours after Mercury makes ingress to Aries. Hence, there will be an implicit disconnection between Mars (a planet of action, among other things) and Mercury. 
What's more, by moving out of Aries (one of the two signs Mars traditionally rules, along with Scorpio), Mars will by definition be losing at least some of its vaunted swagger and mojo. The fact that Taurus opposes Scorpio reinforces the notion that Mars and its symbolic energy will be somewhat grounded in the earthen element and fixed quality to which Taurus corresponds.
Finally, when you consider that Taurus is ruled by Venus (the neutralizing complement to Mars for astrologers), you have a rather conclusive image of deceleration for all worldly manifestations of the Martian archetype. Chances are it would do you far more good than harm to go with that flow by not aggressively forcing your concepts onto others or into the world.
Therefore, next week will almost certainly be an appropriate time to think more quickly while acting with greater restraint. By doing so, you will stand a reasonable chance of maintaining at least internal equilibrium and progress even if external events function along the lines of stop-and-go traffic.
As a bonus, moving through your life while mindful of what Mercury and Mars are doing will give you a better read next week regarding how far you have come since the solar eclipse of March 20. Even more importantly, you will better know how far you have to go before emerging on the other end of what promises to be an ever more eventful journey to the lunar eclipse on April 4.
Offered In Service
Len is available for astrology readings. You can contact him at lenwallick [at] gmail [dot] com.