You are about to enter another dimension. You ingress tomorrow to emerge on April 4. It will be a dimension not only of Sun and Moon, light and dark, but of mind. You are moving toward a portal of unprecedented potential, limited only by your imagination, resilience and will. This will be a journey to which you were born — through The Eclipse Zone.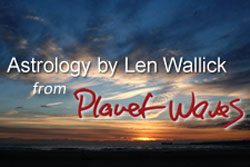 Cue the tinkly music, that's the facts. Going back more than three centuries, no solar eclipse (much less a total solar eclipse) has taken place in the last degree of the zodiac – the final degree of Pisces. Tomorrow, it happens at 5:36 am EDT (09:36 UTC).
The two closest such occasions during the past 300+ years were in 1765 and 2007. On March 18 or 19 of 2007 (depending on your time zone) there was a partial solar eclipse at 28+ Pisces, precisely square Pluto at 28+ Sagittarius.
On March 21, 1765, there was a partial eclipse at 1+ Aries, during the last time Pluto was in Capricorn. Interestingly, Uranus was in Aries at the time as well. Tomorrow, however, will implicitly be an entirely different dimension from any experienced by anybody else for centuries.
So relax if you will, and get yourself ready to both refresh your recent experience and transcend time with this guide to your impending journey.
Eclipses usually take place in pairs. The solar eclipse always occurs during a New Moon (Sun and Moon in the same degree of the same sign) that is in the vicinity of a lunar node, either following or preceding a lunar eclipse by about two weeks. Whichever eclipse (solar or lunar) takes place first can be considered an entrance. The second eclipse of the pair can be considered an exit.
In between, it's a zone. Each time it's different. Nonetheless some generalities are always applicable.
Between the opening and closing eclipses, one big general rule applies: the more you participate with conscious awareness, the more probable a desirable outcome.
As regards to influencing the outcome of a journey through any eclipse zone, you can generally expect at least three things. To begin with, it is probable that there will be some loss. The more consciously and actively you participate, the more likely you will lose what you want to get rid of anyway. Choose what you lose, and the chance of feeling loss as a hardship will be lessened.
Next, patterns are likely to begin and/or end. Once again, your awareness will allow you to be more the changer in charge. If you leave things to chance, the patterns you emerge with may not be such a good fit for your frame of mind.
Finally, between entering and emerging from an eclipse zone, you can expect to travel farther (literally or figuratively) and experience a more eventful life than would normally transpire for you during two weeks. Therefore, have an itinerary in mind and make up your mind to get off it periodically for rest.
So, what makes this pending eclipse zone different? First, it begins tomorrow with the only solar eclipse in centuries to take place within 24 hours of a Vernal Equinox. Implicitly, that unprecedented synchronicity gives you a chance to try or accomplish as never attempted or done before in recent history. The same applies for entities (such as the USA) that have been around less than 300 years.
Another very unique thing about this eclipse zone you are about to enter is that it begins and ends with total eclipses. A total solar eclipse tomorrow (visible from the east side of the North Atlantic and Arctic Ocean), and a total lunar eclipse (the fourth of four in a row) on April 4. Hence, think total. Jump in with both feet. Give your all. Be all you can be. Do all you can do. Or, as a viable alternative, totally recover, recreate and revive yourself.
Those are the basics. That should be all you need for your impending journey. It will be best to pack light, and before you depart to consider carefully your good fortune to be alive now.
Consider if you will a fortunate individual. That individual being you, about to enter another dimension. Not an realm of fate, but a milieu of choice. Not an impending doom, but an anticipated dawn on a new horizon. A tableau mediated by both light and mystery. This fortunate individual is about to go where none have gone for a very long time — on an unprecedented journey into The Eclipse Zone.
Offered In Service
Len is available for astrology readings. You can contact him at lenwallick [at] gmail [dot] com.