Today's Oracle takes us to the Cancer weekly for March 12, 2004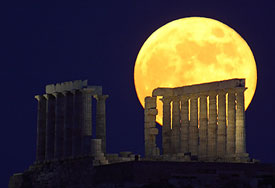 You can be anyone you need to be. Give yourself credit for that, at least. For too long you've tried to over-emphasise one aspect of who you are; for anyone over 30 years old, it may have been going on nearly this long. I recognise that you've been working out something on a deep level that is at the roots of your difficulty changing, and that in itself represents a major change. You can trust that the underlying situation has shifted. You don't need to drag your house down the street because the whole world is moving.
This is an ancient horoscope and by some miracle it is still relevant today. Experience the astrology as it happens, written by me weekly and twice monthly, plus your Moonshine horoscope by Len Wallick. Here is how to sign up — and what you get.