Use this link if you're listening on an iOS or mobile device. Download MP3.
---
We have all kinds of fun and insightful astrology for you. Planet Waves FM is sponsored by…YOU. We are presented without commercial interruption. Become a Planet Waves Core Community Member at $14.97 a month or $19.97 a month. Or get our Backstage Pass, or the Galaxy Pass. If you're a Libra or Libra rising, you may order your 2015-16 birthday reading here. If you're a Scorpio Sun or rising, you may pre-order your 2015-16 birthday reading here.
---
Dear Friend and Reader:
In tonight's edition of Planet Waves FM [link to player/download], I look at the Taurus Full Moon from an unusual point of view. The Moon was full Tuesday morning in the same degree where Chiron was discovered in 1977. Chiron represents the holistic principle, and I have offered a discussion on what that means and why it matters.
In the second segment, I am joined my my musical collaborator and mentor Daniel Sternstein, where we talk about the issue of caring.
This was inspired by a synchronicity last week where Dan showed up for a music session thinking the same thing I was: for most, it's hard to give a shit these days.
So said Lewis Allen Reed, better known as Lou Reed. We lost Lou to hepatitis C two years ago; there are some people I wish would live forever, and he was one of them.
In case you're a fan or new to his music, here's my article about him from the time of his death, called Hey Sugar: A Story of Virgo-Pisces.
Much of it is in Lou's own words, since I have a mutual friend for whom Lou provided an extensive reading of his own natal chart. When was the last time you heard something like that? It was a first for me.
I highly recommend Lou's 1989 CD New York. This album makes its way from your ears to your soul. I bet I've played it 100 times. It only gets younger. If you prefer to get your music via Steve Jobs, here it is on iTunes.
With love,

Feeling Your Way Through the Full Moon
Dear Friend and Reader:
This week I covered the Monday Astrology Diary for Eric, which focuses on this morning's Taurus Full Moon. The Moon was exactly on the degree where Chrion was when it was discovered — lending this Full Moon an especially strong theme of 'before and after Chiron.'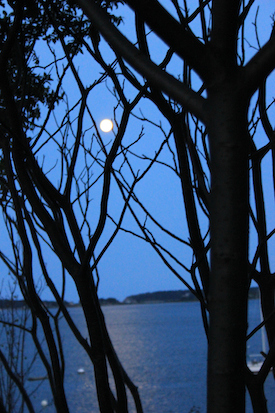 Photo by Amanda Painter.
Also, just in case you missed it last week or need to double-check what the heck was going on for you as the Full Moon occurred today, here's the link to Len Wallick's Moonshine horoscopes again.
Opposite the Moon was the Sun in Scorpio, where it has been for less than a week. That means you still have time to pre-order Eric's Scorpio Birthday Reading for any of your Scorpio Sun, Rising or Moon friends at the discounted price.
We've been hearing from Scorpio readers that the last couple years have been challenging; Eric will be addressing those struggles and also describing where to seek relief and opportunity as you integrate Saturn's recent lessons.
Elsewhere on the Planet Waves website, Len's column this morning widened the focus to consider other, less dramatic planetary movements — and suggests you widen your own view, taking even small steps to support your health.
As we approach Halloween, Fe Bongolan weighs in on the House Republican 'show trials' for both presidential candidate Hillary Clinton and Planned Parenthood CEO Cecile Richards in her column. Between the House Un-American Activities Committee and the Salem witch trials, we have ample precedent for what's going on here.
In this week's tarot reading, Sarah Taylor describes a layout that clearly develops a theme introduced at the beginning of the month: an invitation between walking a familiar road, or striking out into new territory.
In this week's sex-and-relationships post, guest-writer Carsie Blanton begins, "I've been coming across a lot of articles about emotional affairs, and they give me the heeby-jeebies. I find the 'emotional affair' to be a vague and unhelpful concept, whose primary function seems to be introducing an extra helping of paranoia and guilt into our relationships." Her clear-eyed piece strikes a chord worth hearing.
Judith Gayle writes that there are weeks when everything seems stuck in process — bubbling in the sociopolitical cauldron, unresolved — and others that offer breakthroughs. This week gave us some of both, starting with a major shift of political fortune to our north.
On Wednesday, a reader asked Madame Zolonga how it is that Leo is associated with the 5th-house theme of 'fun', even though fixed signs can be associated with stubborn tenacity. Madame Z plays with a few ideas to illustrate how pleasure truly is at home in the 5th; check the website tomorrow for her next column of astro-fun.
Other additional goodies on the Planet Waves website: the Daily Oracle and Danielle Voirin's Photo of the Day; and on Thursday, Len Wallick and I
tag-team to look ahead at the weekend astrology. See you then in the comments, with the Moon softly waning.
Yours & truly,

Amanda Painter