As Eric is away this week, we thought we'd take the opportunity to remind you of two of his most exciting interviews. These are the most relaxed, extensive and informative conversations available — Eric in his role as astrologically informed journalist, interviewing two of the great minds in modern astrology.
The first is with Rob Hand in 2015 [play program here]; a broad and enlightening conversation on the history of astrology, the minor planets, and more.
We also have for you Eric's 2016 interview with Robert Schmidt of Project Hindsight [play program here], following Schmidt's discovery of the inventor of Greek astrology, Eudoxus of Cnidus.
These interviews are well worth revisiting several times. We hope you enjoy them; Eric will return next week with a new episode. Remember, we're able to keep the lights on thanks to your generous contributions, as our sole sponsor — so please continue to donate at this link.
With best wishes,

Amy Elliott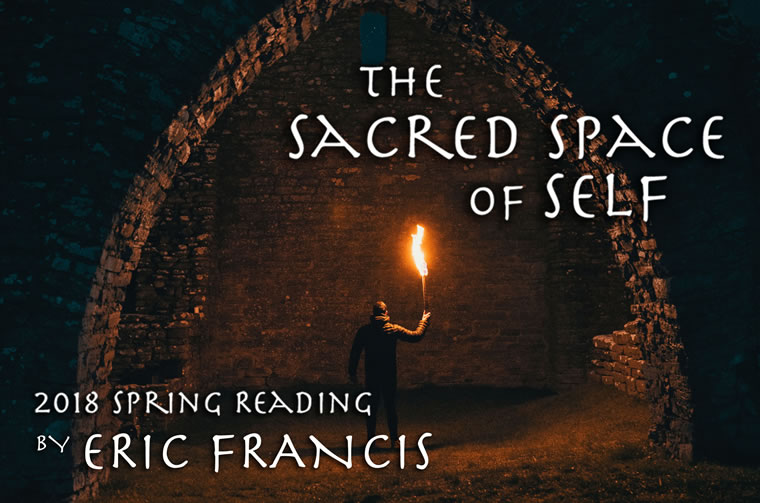 Are You Ready for the Sacred Space of Self?
Dear Friend and Reader:
It's not for everyone. It may be for you. Are you ready for a journey into your astrology, and the astrology of our times? Are you ready for a full-spectrum view of Mars retrograde?
This event is in Aquarius, the sign of society and its patterns. I have done something truly shamanic, which is to be transported deep into the shadowy underworld of what is going on, right beneath the level of appearances, and the level of technology. I have witnessed and experienced things I can barely describe.
All that I've learned, I've shared in the Sacred Space of Self. This reading covers Chiron in Aries, Uranus in Taurus, and Mars retrograde in Aquarius — all of which are directly related events. (Mars is the classical ruler of Aries, where Chiron is, and Uranus, now in Taurus, is modern planet associated with Aquarius). We are working out an energy pattern.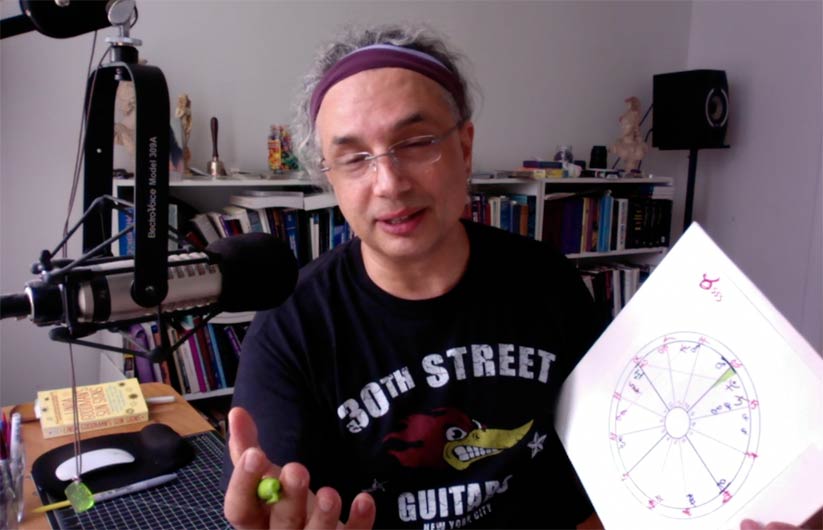 Eric recording the Taurus Spring Reading video.
Everyone feels the need for change, sometimes to an urgent depth of necessity. These readings (12 of them, plus a supplemental one on Chiron in Aries) are a guide to moving through, working with, and experiencing these energies in a creative way.
I have designed a guide to change, as society changes.
In this letter, we have three offers for you: for the readings as stand-alone, or combined with a written reading a discounted membership or extension; and then with either my written The Art of Becoming reading, and a membership. Those are listed below.
We can customize a purchase for you, though that is easier by phone. This will also get you an opportunity to talk with Amy or Ellen, and if I'm in the office, with me.
Here are your options, described a little more elegantly:
Option One — The Sacred Space of Self video readings, all 12 signs, one purchase per household (i.e., share with your kids); or individual signs. These are 40-50 minute readings, applicable to your Sun sign, rising sign, Moon sign and the astrological ideas you have of others. I consider it ethical to 'research' possible viewpoints of others as a means of improving communication.
Option Two — The Sacred Space of Self plus a year of Core Community membership, whether new, an extension, or upgrade and extend. Core Community gets you all of our publications, website access, and The Oracle divination tool (and intelligent horoscope archive). This includes daily, weekly and monthly horoscopes. Also included is a Planet Waves diary (beautiful new pink ones arrived) or personalized astrology kit.
Option Three — The Sacred Space of Self, plus Core Community, plus The Art of Becoming Annual Reading. This is if you are super curious, and you want to catch up. The Art of Becoming will always be relevant, though I propose you want the information that it contains right about now, or as close to now as possible.
Remember, if you're confused or want some other options, or need help on the financial end, call us at (845) 481-5616. If you leave a message we will get right back to you.
Thank you for your business, and for trusting me as your astrologer.
With love,

P.S. Don't forget to watch our other sample videos: we have a compilation of cardinal sign previews, or you can watch the entire video on Chiron transits here.
---
Listen to Vision Quest on Live Stream
Planet Waves has an in-house music ensemble, called Vision Quest. We have a 38-hour loop of our music, which you can listen to any time. Included are finished pieces, rehearsals, live concerts, drum grooves, and spoken word recordings. I consider it a kind of musical divination. Click in randomly at different times of day and see what you discover.
---
Four Winds Almanac Now Includes Daily Horoscope
Planet Waves publishes a nifty daily astrology newsletter called the Four Winds Report. Designed as a fast read arriving early in the morning, we're now trying an experiment — we're including the daily horoscope for everyone.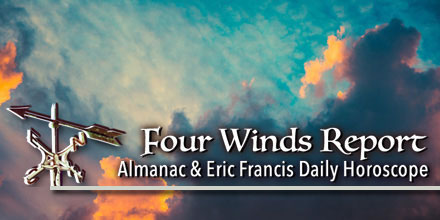 Were it not for horoscopes, I wouldn't be an astrologer. It was the Patric Walker daily that convinced me there was actually something to astrology, and I got my basic education studying his column each day in the New York Post.
I pack a lot of energy into each sign's 50-word write up. Part of the value of astrology is the timing, and daily allows for precision, as well as chronicling a narrative day by day.
Your almanac also includes information about Mayan astrology (long count and short count dates), several formats of the current date (including Hebrew and Islamic), a daily birthday reading, and special discounts on products and services.
Best of all, we take no outside advertising.
---
Value in Every Reading: Get a Planet Waves Membership
"I want to say a heartfelt thank you for all the gifts that you've given me so far. I have enjoyed and immersed myself in every one of them. I have and continue to be an avid follower of Planet Waves and have enjoyed and found value in every one of the forecasts and readings that I've had access to."
— Priya Desikan
Planet Waves gives you ideas you're unlikely to find other places. We use astrology in a way that focuses your power rather than takes it away. We provide diverse content to serve greater needs, beginning with intelligent, spiritually aware astrology; we are the first place many people turn for news coverage, as well as for healing. And we're scrupulous about bringing quality and integrity to everything we do.
There are a number of affordable options for membership — you may find out more here, including how to sign up. If you're already a member, please consider giving a membership as a gift. If you need additional options, please feel free to email us.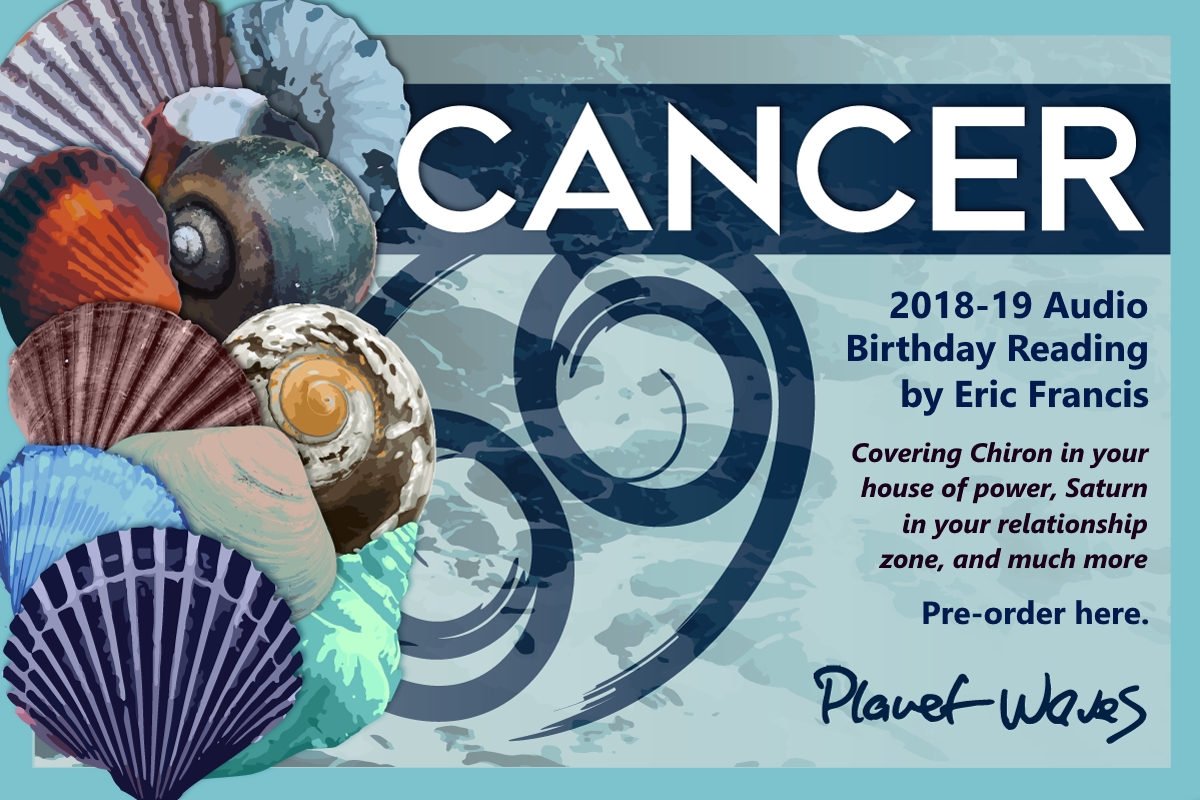 Cancer Birthdays 2018:
Embarking on Your Actual Path of Discovery
"One property of your sign is that it makes you a pioneer and a leader, at least potentially, when you do the work that you take the most seriously, or that's the nearest to your heart. It also turns out that your work is where you can do your most effective self-exploration. It's an actual path of discovery."

— Eric Francis in The Art of Becoming, your 2018 annual reading
Dear Friend and Reader:
If you have a Cancer Sun, Cancer rising or a Cancer Moon, you've likely figured out one essential truth about yourself, alluded to by the quote above: you have what it takes to be a leader in the things that matter most to you. This doesn't mean you need to be 'the boss'; but it does mean that you're an ideal candidate to do something meaningful — for yourself, for those you care about most, and for your wider world.
If you're not entirely sure what your next steps need to be along that path, you can count on your upcoming 2018 Cancer Birthday Reading to contain some excellent ideas.
Saturn, Uranus and Chiron are all in signs with direct and special relationships with your own. Life is on the move. And 2018 is looking like your time to shine: Saturn, Uranus and Chiron are occupying some of the more public and relational zones of your chart.
Eric will be covering what this year's big planetary moves mean for your relationships, work life, impact on your wider community, deepest calling, family and ancestral patterns, and more. Not only that, but eclipses are on the way: primarily along the axis that describes what you value and your self-esteem (Leo) and your relationship to money and sexuality (Aquarius).
"Ah Eric — just listened to your reading. I was moved to tears by your closing words. Your passion, deep care and love always shine through; and you have the gift of all great teachers, of making one feel that one is being personally addressed, respected and taken care of."

— Liz Glanville
Your two segments of astrology (at least 30 minutes each) come with an extended description of your sign and access to last year's reading. When you pre-order your full Cancer Birthday Reading early, you'll lock in the discounted price of $33. The price increases when the reading publishes.
If you could use a friendly, calm, motivating voice this year, you'll find it in this reading. Eric does his best to use plain language, and always brings the best of his decades of astrological, therapeutic and spiritual training to these readings.
Wishing you a beautiful start to your birthday season,

Amanda Painter
P.S. This reading will make a thoughtful gift for any of your Cancer loved ones.
---
Planet Waves FM is published each Tuesday evening in Kingston, New York, by Chiron Return, Inc., a 501(c)(3) nonprofit corporation. Host and Producer: Eric Francis Coppolino. Web Developer: Anatoly Ryzhenko. Astrology Editor: Amanda Painter. Eric's Assistant: Ellen Dockery. Client Services: Amy Elliott and Victoria Emory. Finance: Andrew Slater. Domestic Engineer: Jade Moon. Technical Assistant: Emily Thing. Astrology Fact Checker: Len Wallick. Copy Editor and Fact Checker: Jessica Keet. Media Consultant: Andrew McLuhan. Music Director: Daniel Sternstein. Bass and Drums: Daniel Grimsland. Additional Research, Writing and Opinions: Yuko Katori and Carol van Strum.