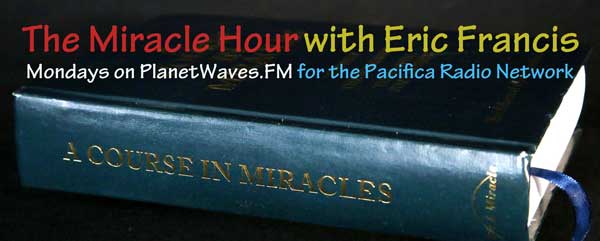 Use this link if you're listening on an iOS or mobile device. Download MP3.
This is a re-run. We hope you enjoy the episode. Please feel free to let us know what you think in the comments below.
Dear Friend and Listener:
In today's edition of The Miracle Hour, I return to the introductory text of A Course in Miracles, focusing particularly on Chapter 1, Section II, which lends its title to this show.
This text deals with the nature of revelation, and its connection to how we relate to the Divine and one another. This is not the apocalyptic "Revelation" of the Bible, but something much more pleasant. Here is an excerpt from the lesson:
Revelation is intensely personal and cannot be meaningfully translated. That is why any attempt to describe it in words is impossible. Revelation induces only experience. Miracles, on the other hand, induce action. They are more useful now because of their interpersonal nature. In this phase of learning, working miracles is important because freedom from fear cannot be thrust upon you. Revelation is literally unspeakable because it is an experience of unspeakable love.
I also talk about my own experiences of revelation, which to a certain extent bears out what is written in ACIM. In the final segment, I move on to section VI, The Illusion of Needs.
As usual, this 59-minute broadcast, created for the Pacifica Radio Network, is accompanied by music from Vision Quest. You may listen to all past episodes here.
With love,


---

---

Aries Reading: Introducing Video Astrology!