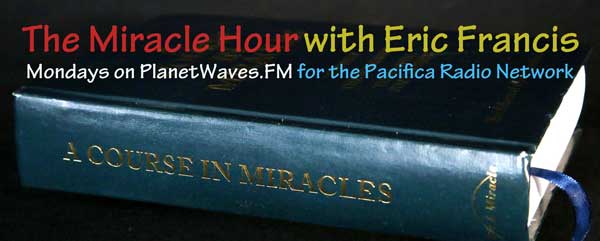 Note: This is a re-run. We hope you're enjoying the series so far. Thanks for listening!
Use this link if you're listening on an iOS or mobile device. Download MP3.
---
Hey Cancer — we're hurtling toward the Northern Solstice in a moment of rare, exciting astrology. Find out what it means to have the defining aspect of our era in your career house — get your 2016-17 birthday reading at the bargain pre-order price of $19.97.
Not a Cancer? You can pick up your latest birthday reading, plus our 12-sign readings, classes and much more from the Planet Waves Boutique.
---
In today's edition of The Miracle Hour, I look at Chapter 16 of ACIM, titled "The Forgiveness of Illusions." Part IV, The Illusion and the Reality of Love, discusses the differences between love and hate, and their relationship to reality.
Miracle Hour is distributed weekly to the Pacifica Radio Network and is a project of Planet Waves FM. Music, as ever, is by Vision Quest.
By the way, the original date of this broadcast (March 13) was my 30th anniversary of first receiving my copy of A Course in Miracles. I'm delighted that I can share my experiences with you.
Lovingly,