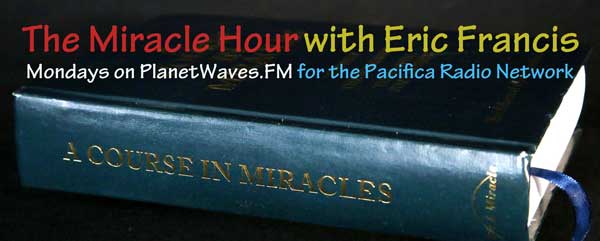 Note: We're re-running Episode 3 of The Miracle Hour this week. Here's a reminder of the content. — Amy
Use this link if you're listening on an iOS or mobile device. Download MP3.
Here's the full track Fifteen Minutes Right Now, from Vision Quest.
---
The 2016-17 Taurus birthday reading is now available for immediate access. Here is a special video preview. The reading lasts as long as you need it, and makes a great gift.
---
If you haven't yet secured your copy of our excellent 2016 Spring Reading, here's a brand new video preview just for you. Don't forget, you can get all 12 signs or choose your individual signs — and we have a special written horoscope coming soon.
---
This edition of The Miracle Hour is an introduction to the Course in Miracles workbook. I describe the basic purpose of the workbook, take you through the first 14 lessons, and give some ideas about how they work. I also read a piece of poetry called At This Point from a 1989 volume titled 313.
Here is an interview with Kenneth Wapnik, one of the first people to read A Course in Miracles. He knew Helen and Bill personally, he assisted with editing from the Hugh Lynn Casey edition into the First Edition (mainly by helping set typing style), and then became the first metateacher of the work — a teacher of teachers.
This interview has a slow start — lots of giggling — and then when it gets into the substance, it's fantastic, particularly in dealing with the relationship between Helen and the work, Helen and Jesus, who Jesus was, and so on.
Music is by Vision Quest. The program is 59 minutes.
Lovingly,