Use this link if you're listening on an iOS or mobile device. Download MP3.
Dear Friend of Planet Waves:
Before I describe tonight's edition of Planet Waves FM, I want to thank you for taking part in our membership drive. With your love, kindness and generosity, we're days away from our goal of an additional $25,000. Borrowing an idea from The Young Turks, I'm here to ask your help with an additional goal: hiring a news writer.
This morning I sent out my Horoscope as Journalism letter. Then there's the other bit: journalism as journalism, informed by our multi-layer perspective, and years of experience covering complex issues.
We have some excellent writers at Planet Waves, though it will be helpful to have someone on board who is specifically here to help research and write news articles.
This can be a part-time freelance person, though the main thing is the ability to handle an assignment, with me as the editor, and turn the work around quickly. These people still exist, though they're getting difficult to find. We will find someone brillant and energetic, who sees the potential in this opportunity.
A lot is happening in the world, and we do our best to keep up. This will give us extra leverage, and take some pressure off our existing writers when big news happens. A modest goal of $10,000 to pay this prospective writer for a while would give us a tremendous advantage in keeping you informed about the affairs of the world. Here's the link to renew, restart or upgrade your subscription — or to make a donation.
We do what we do without corporate sponsors or commercial interruption. We do it for you — and we do it with you.
Tonight's Edition of Planet Waves FM
As for tonight's edition of Planet Waves FM [play episode here]: Shortly after finishing The Book of Your Life, I drove up to Troy, NY, to meet my old friend and mentor Dr. Ward B. Stone. You may know that I have some years in as an environmental investigative reporter, and Ward was one of the people who helped me.
In his capacity as wildlife pathologist for the state Department of Environmental Conservation, Ward played many roles, including citizen advocate.
Starting at 1:22 of tonight's program, Ward and I talk about the history of the environmental movement, from an angle that's almost banned from the news: chemicals. We're all so soaked in "better living through chemistry" that the whole matter of what these chemicals are and what they actually do gets lost in the sauce.
In the first segment of the program, I offer my last thoughts on Uranus conjunct Eris prior to Friday's conjunction.
I also read the chart of our musical guest, George Harrison, and play some of the music of this sublime Pisces artist, as our farewell to Pisces time. You can see his chart on the program page for tonight's show. Some selections are from the Concert for Bangladesh (Amazon | iTunes), and others can be found on the compilation Let It Roll (Amazon | iTunes).
Planet Waves FM is presented without commercial interruption as part of the nonprofit Pacifica Radio Network.
Thank you for tuning in. It's good to be with you.
with love,

PS — In cased you missed an early letter in this series, here it is: A Note from your Personal Journalist. In tomorrow's letter, I'll tell you a little about my astrological education, and my approach to teaching.

Dear Pisces Cousin:
Last week, I recorded the two astrology segments of your Pisces audio reading. My birthday was last week, and I've been watching the astrology carefully.
This is an unusual time for Pisces. Chiron is in its final seasons in our sign. Neptune, the modern ruling planet of our sign, is reaching the midpoint of its journey, increasing all that dreamy and creative energy. And Nessus, a complex little Chiron-like body, is just at the beginning of its healing journey.
And of course, we're finally done with Pisces eclipses for the next nine years.
This is some of what I go over in your reading. My job is to help you make the most of these transits. I'm also here to ease your concerns, point you in the direction of your highest potential and do what I can to motivate you. We live in truly trying times. So much is being asked of us. It's not easy for Pisces to live under these conditions. We're supposed to live on a planet that's like a remote corner of Hawaii.
I have something for you; not only will it help you feel more positive, but it will provide you with a dependable resource every time you listen to it. If nothing else, you'll get more than an hour of thoughtful, calming meditation and excellent music. Then in a little while, you'll also get a tarot card reading (my original speciality).
It's affordably priced for $24.24, and the first two segments are now available for instant access. Sign up now for the pre-order price — and if you have any questions about ordering, you may email Amy now at cs@planetwaves.net.
Thank you and I wish you a warm, loving and healthy year.
with love,



PS — I just thought to include an old article you might like: How to Cross an Ocean, How to Light a Fire, about Chiron in Pisces.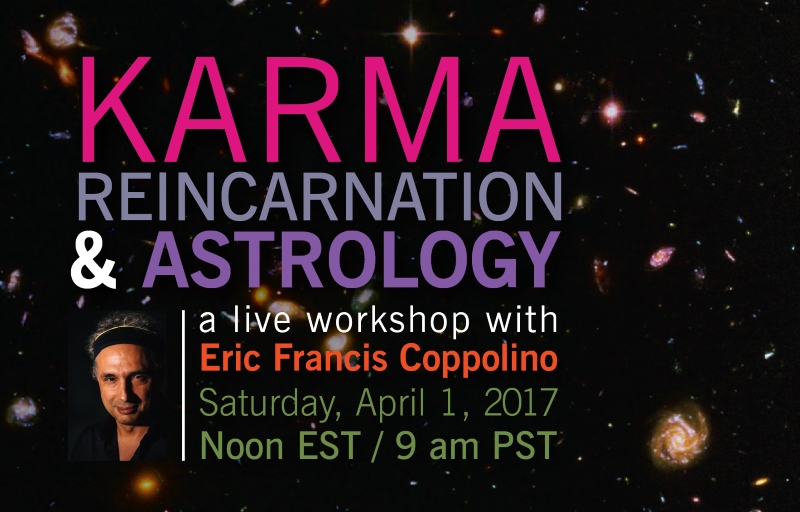 Via teleconference, April 1, 2017 from noon to 4 pm EDT / 9 am to 1 pm PDT
Class includes a half-hour break. It will be recorded in studio quality and available indefinitely to all participants. You do not need to be available for the live class to take it. Class includes discussion group in the weeks following the event.
The price for this class is $111. You may sign up here. If you become a Core Community or Backstage Pass member, you'll receive an immediate discount for this class.
Dear Friend and Reader:
This groundbreaking class is an introduction to the concepts of karma and reincarnation, using astrology as a reference point and guide. We will cut through the grease and put this whole topic on solid ground. I am passionate about teaching, and teaching astrology in particular, and as a student I offer you my knowledge with devotion and in service.
This is a beginner's class, which requires no previous knowledge of the subject, only sincere interest and curiosity. However, what we explore will be helpful even to those who have done considerable reading on the topic, pulling the subject area into focus in an interesting and helpful way.
We will proceed from the most obvious ideas: What is karma? Does it even exist? Does the idea of karma imply multiple lifetimes? Is reincarnation possible? And what does astrology have to say about these things?
I will offer a few different viewpoints on what I call 'the reincarnation effect'; that is, the convincing feeling that we live more than once.
What we do with information about past lives is a real question. How to verify how accurate that information is also matters, and I'll talk about my methods for validation, which are based on what I've learned as a journalist as well as a spiritual seeker. The astrology chart would seem to be a picture of karma, or the sum total of the past, presenting a starting point for the current incarnation. How then do you proceed forward with what your chart tells you? Can obstacles be overcome?
Look at enough charts and it's clear that people do not come into this life equal, or with equivalent experience. And it's also clear that some people can do a lot with a little, and others struggle to do much with a lot.

Don't forget to sign up for our Four Winds daily almanac. Get the best free daily report on the internet. You may
sign up at this link
, and share our newsletter with anyone you wish.
Here's today's edition
, which includes a daily birthday reading, a daily overview, aspect listings and other features.

This Week on Planet Waves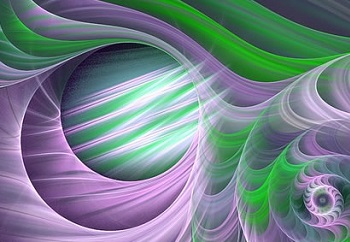 This is an extraordinary week. There are two conjunctions, both distinctive, though on Friday we experience the extremely rare conjunction of Uranus and Eris. As Eric notes, this is the third and last Uranus-Eris meeting before the two begin to separate. They will not form another conjunction until April 28, 2106.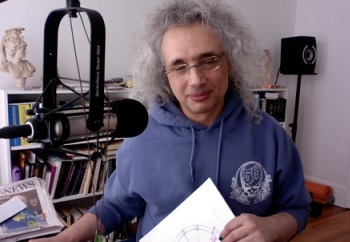 What do you mean when you say, "I am"?
In this week's Planet Waves TV, Eric looks at Sunday's Virgo Full Moon that took place in aspect with Chiron and Pallas. But mostly, he looks at the Uranus-Eris conjunction in Aries that is exact on Friday, March 17 — the aspect that's defining our era of history, and which will not occur again for nearly a century.
Guest-author Steve Guettermann writes, "Our time has many names, including New Age, Aquarian Age, Information Age and Computer Age. However, in other circles our time is known as Kali Yuga: the Age of Quarrel and Conflict, or the Iron Age. Whatever we call it, our time seems to be a Coming of Age age."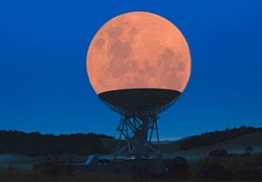 Connecting the Dots By Moonlight
The Full Moon on Sunday featured the Moon in Virgo single-handedly opposing a whole school of fishy planets in Pisces (and that's not all). If you feel like you're caught in a whirlpool, you're not alone. Amanda Painter considers several facets of the Full Moon chart, and how you can use the energy effectively.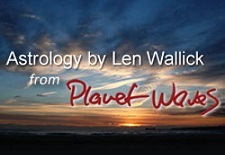 It's not unusual to occasionally find yourself anew. This week, as Len Wallick sees the astrology, you can get ahead of the game. Instead of waiting on your changes, you can take a cue from the solar system's innermost planets to help make choices you can live with.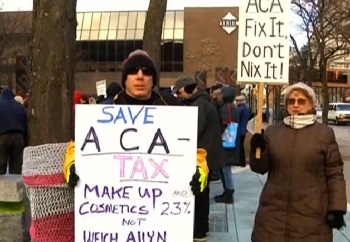 Democracy Now! Pick of the Week
A new report from the Congressional Budget Office is projecting 24 million people will lose health insurance by 2026 under the Republican healthcare bill. While the White House rejected the findings, Politico is reporting the White House's analysis predicts 26 million people will lose coverage over the next decade.
Latest Comics
Obamacare vs. Trumpcare

What's the difference between Obamacare and the proposed plan to replace it? Jen Sorensen does a side-by-side comparison.

12th Dimensional Chess

Cartoonist Matt Bors plays with some persistent Obama myths.